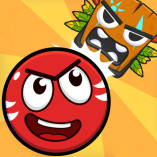 Roller Ball X : Bounce Ball
Adventure with Roller Ball X: Bounce Ball and have fun with the beautiful ball. The minions are attempting to halt the red ball's progress and complete the mission. Roll and jump your way over obstacles, defeat enemies, and dodge deadly lasers during bouncing ball gameplay. Demonstrate your adaptability to quickly overcome challenges. Never give up and defend the world against king-shaped villains.
Remember that you must observe everything from a distance in order to quickly improvise and mentally prepare. Collect the countless glittering gold coins that will appear along the path of the ball. Collect more gold and complete all of the levels. The gold you earn can then be used to upgrade more skills. Finally, you'll have to deal with unique bosses who use powerful attacks to destroy you. So be cautious when dealing with them!
Control the ball with the arrows.