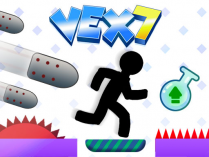 Vex 7
Vex 7, the successor to Vex 6, has been released. In this mission, you must still act alone. Perform expert parkour jumps, leap over obstacles, and cross the finish line!
If you've played the Vex series, you're familiar with hazards like spikes, shooting knives, and falling blocks. To move safely, use your fingers' flexibility and control the stickman. You may be required to jump from wall to wall or perform dangerous stunts. Nothing is impossible to overcome!
Every time you let your guard down, you risk death. So stay focused on the task at hand. Remember that skins are locked at the start of the game and that you must collect coins to unlock them. The best way to make money is to complete daily challenges and win levels with a high score. Vex 7 has daily quests for its loyal fanbase, each offering a tempting reward for your continued commitment to dying over and over. Get your well-deserved bonuses Don't forget to upgrade your stickman with more features or better skins.
Game Advice
You'll occasionally come across special levels hidden in hidden corners and guarded by a purple spiked fence while searching the level map. Complete the three missions listed at the start of Normal Act to earn three stars and remove the barrier.
Practicing and mastering how to make a game will help you improve.
As needed, deploy parachutes, grappling hooks, TNT, and elixir.
What matters is your concentration and calmness.
Similar games
The Vex series has always been popular and has a large following. You should also try to learn more about Vex 4 or Vex 6. Each version will have its own set of interesting features and things.