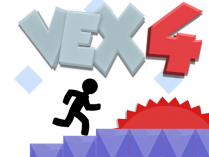 Vex 4
The gameplay of Vex 4, a stick-like platformer, consists of the standard platforming elements like climbing, jumping, and swimming. It's connected to the Vex series as well. Survival is the ultimate goal. You'll have to outrun, jump, and slide your way past traps to reach the door.
As you progress, you'll encounter a variety of challenges, the resolution of which will depend on how you respond. As a nimble stickman, the player must use his parkour skills to get through increasingly difficult levels full of spikes, saw blades, shifting platforms, and falling blocks, just like in the previous levels.
With its refined gameplay, new actions, updated visuals, and enhanced features, this game will test your skills. Can you handle the pressure? Do you think you're up for the challenge of conquering the globe? If at first you don't succeed, just begin again from where you fell short. Discover other entertaining games that can replace your time spent playing Vex.
Controls
Use WASD or the left and right arrow keys to navigate.
Use the Up Arrow (or W) to leap.
You can crouch by following the arrow up or down.