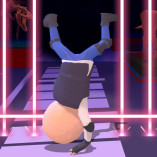 Dodge Hero
Enjoy some excitement with the straightforward action arcade game Dodge Hero. In this game, you play as a top-secret agent on a mission to infiltrate a heavily guarded bunker while evading security measures and armed guards. The modern security lasers can be avoided by sliding your character and gaining upgrades as you go. Boxes and shields can slow you down, so practice your reflexes and make good use of your weapons.
Challenges will arise as you work through the process of completing the task. Navigate your way past the firewall and into the final room. Show your natural reflexes! If you like this game, you can also play more House of Hazards.
Controls
Use mouse or touch to play.