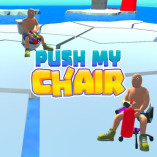 Push My Chair
Welcome to Push My Chair, a fun game in which you must be the last person to sit. This is also a game to encourage office employees to get physically active and unwind. The objective is to remove the office employees from the arena. Use the items, weapons, and equipment at your disposal to improve your chances of winning. Also, you can select from a range of weapons and chairs. Be cautious, as other office workers may also possess their own weapons. The game features 1 player and 2 player modes. Choose a weapon, take a seat, and begin to play!
If you enjoy the game's fun nature, you can also play Murder.
Controls
Player 1: Use WASD to move.
Player 2: Use the arrow keys to move.