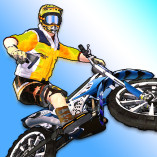 Trial Bike Epic Stunts
Let's get started with Trial Bike Epic Stunts, a thrilling driving simulation game. Your goal is to get to the finish line by navigating the motocross course through a sequence of stunts, jumps, and obstacles. There are two game types in the game: Mission and Skill. Can you get through these two modes? Do the driving stunts before accelerating, controlling your speed, and performing the front flips. It's time to put your great balance to the test by moving on just one wheel. Players will have to use their talents and mastery of vehicle handling to overcome each obstacle and reach the conclusion of each level, thanks to the intuitive controls. Upgrade and purchase additional new motorcycles. Begin the race right now!
Controls
To move, use WASD/arrow keys.

To leap, press the Spacebar.