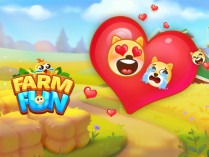 Farm Fun
Farm Fun is a puzzle game featuring adorable animals. In this game, your main goal is to unlock all of the animals and release them into the lush green pastures. To be able to speculate and make the right decisions, the game requires logical thinking.
Obstacles include fences, wooden crates, bushes, and so on. Avoid them all. The obvious hint is that the animals in this area can only move forward or backward. Observe the before and after of each animal for each move. The higher the level, the more difficult it will be, and obtaining three stars will be more difficult than before. Relax with these adorable and colorful animals! You can also play Merge Harvest if you enjoy farm games.
Controls
To play, use the left mouse.