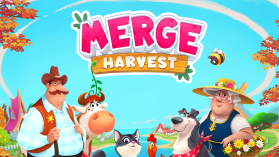 Merge Harvest
Join the puzzle adventure game Merge Harvest. Your mission is to transform into a farmer who merge items, completes various tasks, and follows the story. Collect materials for building repairs and grow fruits and vegetables for food.
Collect bonuses and chests to help you upgrade your buildings and increase production and storage. There are 250 unique items to unlock and combine, as well as 1,000 exciting quests to complete. Handle wood, stone, and other raw materials to obtain the ingredients needed to repair buildings, farm, milk, fish, and collect eggs, and don't miss out on the chance to explore. Discover the hidden secrets that await you in every nook and cranny.
Controls
Combine three identical objects.

Merge three or more objects on the field to create new items. Explore new areas.

Remove the weeds from the field. Collect the resources you find and rebuild the houses.