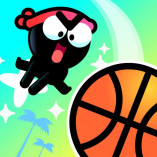 Blumgi Ball
Play Blumgi Ball and demonstrate your athletic prowess! Basketball is a difficult-to-miss puzzle game that is played by placing the ball in the hoop. The player's task is to put the ball in the basket and throw it. How many balls can you hit the target with? Now you must calculate a force that is sufficiently powerful and in the correct direction. Utilize a slingshot system where the greater the distance the rope is pulled, the greater the throw.
There will be a certain number of bonuses for each level of Blumgi Ball. Collect them to unlock a variety of intriguing characters. Jump from location to location on the map, teleport, and take advantage of countless opportunities to complete each level. Teleportation will be of great assistance in completing your quest. Enjoy these moments of relaxation now! You should also participate in the Basket Battle.
Controls
Aim and shoot with a left click, drag, and drop.

Use the space bar to teleport to the ball.