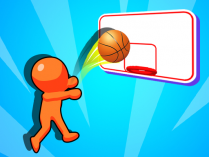 Basket Battle
In Basket Battle, you'll need to make some crazy leaps and throws. Playing this game will help you improve your basketball passing skills. The objective of the fight is to defeat your opponent by throwing three balls. Be able to score more goals than your opponent while also stopping them from doing so. This requires you to make use of your fingers' range of motion. Throw the ball accurately by grabbing it and releasing it.
As the game begins, you'll have an easy time playing matches and knocking out your opponents. The game becomes more difficult and addictive as you progress through the levels and face off against more skilled opponents. As the game progresses through its many levels, you'll encounter a wide variety of challenges and obstacles, including, in certain stages, a large number of wooden boards strategically placed within the game's central play area. You will have a more difficult time lining up your shots and getting the ball in the basket as a result of this. More sports-related games, including Puppet Hockey, are also available.
Controls
Use the mouse to play.