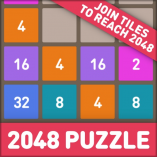 2048: Puzzle Classic
You've probably heard of the game 2048. So give 2048: Puzzle Classic, a challenging brain-training puzzle game, a try. A version of the classic game that is challenging for many players from around the world and provides the best results possible. Choose from a variety of colorful designs to customize the game to your liking.
More interesting features, such as sound effects and animations, can be found in the settings. All you have to do is swipe, swipe, and swipe. However, you must carefully calculate your moves if you do not want to reach a dead end and lose the game. The goal is to reach 2048, but it would be fantastic if you could get even more. Make miracles!
Controls
Slide and match the tiles to get 2048 tiles. Begin with 2 and work your way up to 32, 128, 512, 1024, and finally 2048.