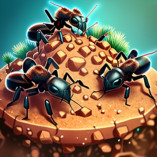 Ant Colony
Ant Colony is a game of ant management and resource accumulation. Your objective is to gather insects and grow your area and resources. There are several dangerous insects, so proceed with caution and urgency. Increase your army's strength and resilience to potential conflicts, and demonstrate this to the world.
Construct an ant colony, enlist soldiers and warriors, and then assault neighboring factions for resources. Examine your colony and add more units based on requirements. Try to maintain a balance between your food and ingredients, and use your leftovers to recruit new soldiers. Become a successful manager!
Controls
To play, use the mouse.