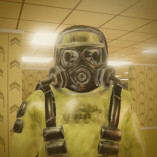 Backrooms Escape 1
Escape the never-ending maze in Backrooms Escape 1. With dismal yellow tones, moldy rooms, and fluorescent lights humming, you must find a way out. When you join this game, you will go on a terrifying journey. The game transports you into a virtual world filled with real emotions. Numerous identical rooms, each with its own distinct appearance and ambiance. You must investigate the chambers in order to find your way out.
When you first start engaging, you could be perplexed. But rest certain that if you remain cool and fearless, you will be able to overcome any problem. You'll come across puzzles and tasks that will test your creative thinking and problem-solving abilities. Hidden perils can always be found in the Backrooms. Always remain on the lookout for threats and, if necessary, devise strategies to avoid or conquer them. Start playing right away!
Controls
Move around the rooms using the WASD keys.