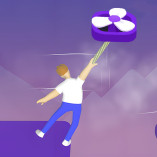 Balance It
Balance It is a puzzle game founded on physical laws. You must use fans to assist items or people in escaping. Observe the object to be rescued in order to determine where the fans should be affixed in order to lift it. Utilise intelligence and logic to devise a reasonable strategy.
The greater the level, the more challenging the difficulty. If you encounter obstacles, use dynamite to destroy them, attach objects with ropes, and use propellers to ascend into the air. Are you up for a puzzle? How many stages can you complete? If you enjoy Balance It, you can also play additional Tornado Giant Rush.
Controls
Use the mouse to play.