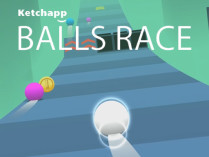 Balls Race
Balls Race is a fun game of racing balls to the finish line.You will compete against other competitors and attempt to defeat them all. To defeat all of them, move the ball into the acceleration zone to accelerate its roll. Additionally, collect any additional coins encountered along the way. Move carefully and do not stray from the path. If you fall out, the game is over, and you lose.
To master the game, maintain your composure and move the ball with care. Do not panic if you fall behind. Instead, enter the acceleration zone immediately and pass your opponent. Practice making your hands more flexible and avoiding obstacles with greater skill. If you enjoy rolling ball games, you should try more Roller Baller.
Controls
To move the ball, hold the LEFT MOUSE BUTTON and move the mouse left and right.