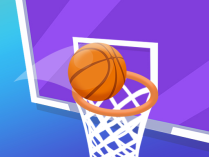 Basketball Challenge
Basketball Challenge is a basketball sports game in which you must score the most points possible. Throw the ball as accurately as possible because you only have three attempts. There are two game modes in this game: single player mode and endless mode. To add drama and suspense to the action, some footage is played with the stopwatch slowing down. Aim for the highest level. Practice and improve your pitching abilities. Climb the leaderboards to win special prizes. When it comes to creating thrills and stimulation for players, this game is addictive. Let's make something truly unique!
Feature
3D graphics that are extremely realistic.
Play street basketball and shoot three-pointers on over ten specialized basketball courts in major cities around the world.
Power-up items in the game increase your power.
There are two game modes to choose from.
Controls
Swipe to throw the ball.