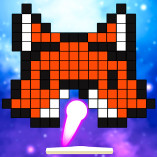 Break Bricks 2 Player
Break Bricks 2 Player is an engaging brick-breaking game for two players. With a variety of cube shapes, fire the balls so that they destroy any cubes they come into contact with. In single-player mode, you have three turns to demolish as many cubes as possible by observing and aiming precisely. In 2-player mode, you must engage your opponent in five rounds of combat. Attempt to gain an advantage over your opponent!
Use three forms of assistance each time you encounter a challenge to be able to overcome it more readily. There are enticing assistance sections available to you. One of the assistants increases the total number of balls. Another benefit is that it creates 3 new balls. Lastly, there is a reward for filling the health bar. These instruments are extremely intriguing. Therefore, take action and attempt to obtain this assistance.
If you enjoy brick-breaking activities, you can also engage in additional Brick Game 3D. Relax now!
Controls
Use the mouse to play.