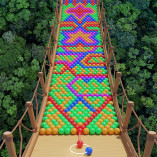 Bubble Fall
Bubble Fall is a puzzle-solving game that is highly addictive and entertaining. Your mission is to pop all of the balls that are coming towards you. Countless coloured balls advance across the suspension bridge. To minimise the quantity of balls as rapidly as possible, you move quickly and shoot accurately. Match at least three balls of the same colour to cause massive explosions. You can alter the colour of the ball if you can't locate the proper move.
All you have to do is aim and shoot to keep creating chain reactions and earning points. The more bubbles you match, the more points you receive, and the stages become increasingly challenging. You can also employ rockets and bombs to knock down a large number of balls, making the game easier. Play and push yourself with further games like Ball Sort Puzzle.
Feature
There are thousands of levels.
The gameplay is straightforward and basic.
Cute visuals, colourful bubbles, and soothing noises.
The colour of the shooting ball can be swapped.
Controls
Drag or use the left mouse button to merge the units.