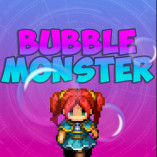 Bubble Monster
Battle to defend the galaxy in Bubble Monster. You will transform into a courageous girl who uses a magic wand to fire light streaks at the monstrous army in order to destroy it. Take swift action to eliminate them all. If that army were to approach you, you would be in grave peril. There are eight alternatives, each with a distinct objective. You must eliminate enough soldiers in a single pick to prevail and save the galaxy. It was difficult to defeat a sufficient quantity of monstrosities. Simply hone your abilities and act swiftly.
In addition, you can play other games similar to Pipe Surfer. Relax now!
Controls
Left click to destroy the monsters.