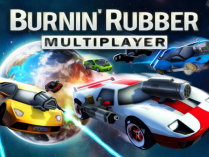 Burnin Rubber Multiplayer
There are a lot of other racers in Burnin Rubber Multiplayer, making it a very competitive experience. Participate in classic gun battles online. The game features cutting-edge visuals and gameplay, so you'll have to rely on your driving and shooting skills to prevail.
Try your hand at some target practice, and use your driving and shooting skills to hunt down and stun your enemies. In your explorations, you may come across various types of protection, weapons, and ammunition. There's no need to be intimidated by the armored vehicles your opponent has at their disposal. Don't be afraid of your opponent's vehicles. Your exceptional driving skills will allow you to dominate the battlefield. Are you prepared?
Feature
40 vehicles, all BR series staples.
More than 30 primary and secondary weapons are available.
A nice mix of online mode and car driving.
5 remastered deathmatch maps.
Controls
Arrow keys or W,A,S,D: drive

pace: nitro

Shift: drift

Double Shift: u-turn

Z,X or Mouse buttons: fire

F: special weapon

C: look behind

1-0: dialog hotkeys

Hold (`) : show dialog wheel

V: HUD toggle

Esc: pause