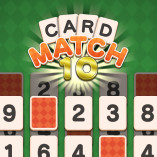 CARD MATCH 10
Card Match 10 is a puzzle game that will put your math skills to the test. Your objective is to sort the cards into groups of ten so that they can be eaten together. The match-3 game principles require you to combine two or more tiles so that their sum is 10. You'll gain points for clearing them this way.
At the bottom of the screen, each level will feature objectives. Complete the goal as best you can and earn reward points for your efforts. You can also delete tiles from the game or enlarge your storage bar if you need assistance. Play until there are no more cards to clear, and the stage is finished when the target is reached. Are you prepared yet? Let's play some more Bubble Shooter Challenge.
Controls
Tap a card to add it to your hand.