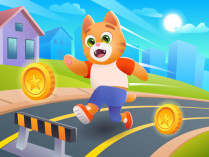 Cat Runner
Intriguing gameplay makes Cat Runner an enjoyable experience. To complete your mission, you must guide the naughty cat as it tries to outrun the policeman, collect as much gold as possible, and complete various obstacles without getting caught. Keep running as fast as you can while being cautious around hazards. Get more gems, coins, and other cool bonuses as you play as Tex, Stanley, Summer, and other characters. Participate in games to complete objectives and unlock bonus rewards.
Feature
A simple and endless game that is fun to play and control.
Stunning 3D visuals in the game.
The running track has a lot of different views.
Magnets, double points, and jet engines are examples of such add-on upgrades.
Controls
Swipe left/right/up/down with your finger, mouse, or arrows.