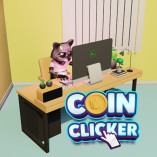 Coin Clicker
Coin Clicker is an idle pixel game in which your goal is to earn coins. Win as many coins as possible! Easy game, right? You'll then purchase various upgrades that will allow you to earn more money with every click, as well as purchase new skins and furnish your area with new goods.
With nine distinct levels: Starter, Garage, Artist, Wizzard, Japan, Steampunk, Neon, SCIFI, and Cyberpunk. What you need to do is get through all of the levels and become wealthy. You can make more money by investing your money in many industries, such as industry, agriculture, and food. Furthermore, if you have a specific amount of money, you can upgrade and decorate your space. Play and relax now with the same gameplay mechanics as Spacebar Clicker!
Controls
Click and earn coins.