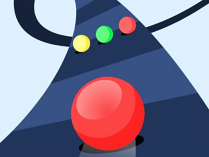 Color Road
Immerse yourself in the vibrant Color Road game, which features surreal 3D movements. Your goal is to guide the ball as far as possible. The ball will roll gently on the platform at first, but its speed will increase and your control will become difficult. You will encounter moving balls in particular as you pass through the balls of the same color. The game is over if you touch balls of different colors.
Your ball will change color with each step, so pay close attention when moving. Don't be careless, or you'll lose right away. Set specific goals, begin taking action, and do it right away! Don't forget to play other action games like Roller Baller as well.
Controls
To move, use the mouse or the A and D keys.