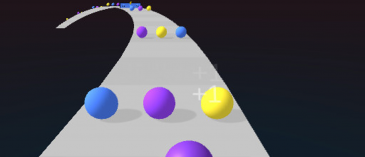 Color Slope
Balls are utilized in the fun and exciting game known as Color Slope. There are moving balls, and it is possible to merge them into larger balls. Let's check out the next fascinating game together, shall we?
In this particular game, the objective is to stop the balls from escaping the playing area. Because there will be a large number of balls that need to be tracked, you will need to be on the lookout for them. Additionally, it is possible to combine the various hues of the balls without losing any of them in the process. There are balls in three different colors: yellow, blue, and purple. You need to get through all of the challenges if you want to earn as many coins as possible.
After the ball has completed its roll, a ramp will become visible. The ball will undergo a shift in color as the ramp makes its way through it. Be careful not to get lost and tumble into unwanted shades. Relax!
Controls
Use mouse or arrows to play.