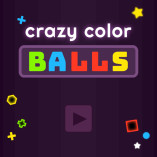 Crazy Color Balls
Have fun with the Crazy Color Balls! This is a fun game with 20 various levels of difficulty. The small square's final goal is to make it through the obstacles and to the finish line. You will first see the little square, gradually increasing the pace, go forward on the playing field, gradually increasing the speed. Obstacles in the form of geometric objects of various colors will be encountered along the path. You must avoid clashing with any other colored objects. You can safely get the small square to the finish line based on that!
Feature
The game is simple but appealing.
There are numerous geometries with various colors.
The gameplay is simple and intuitive.
With 20 challenging levels.
Controls
Use mouse/swipe touch screen.