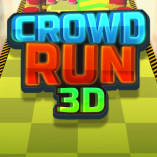 Crowd Run 3D
Crowd Run 3D is a difficult 3D obstacle course game. Perform several action sequences to complete the objective as efficiently as possible. The player must direct the stickman army to avoid obstacles and safely reach the finish line. Take a broad view of the road ahead and make the most informed decisions possible. Because it can help your army grow in size.
Avoid impediments, hazardous traps, and portals that deplete your army. The first few stages will be rather easy, but the difficulty will gradually grow. Are you ready to have some fun?
Controls
Use mouse or touch to play.