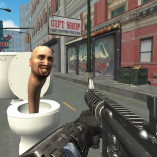 Dead Aim: Skibidi Toilets Attack
In Dead Aim: Skibidi Toilets Attack, pick up your gun and shoot nonstop. This is an action game in which you must battle Skibidi characters. Transform into a special forces soldier who wanders through the streets, attempting to demolish all of the skibidi toilets. When you complete enough achievements, you will be able to unlock ten new weapons. Remove the city's baddies and keep the inhabitants secure. Aim precisely at the target! Don't squander any ammunition.
Each sort of weapon has distinct applications and destructive potential. You must learn how to use them effectively. Don't allow the villains to get too close. Develop excellent battle plans in order to complete the assignment as quickly as possible. To protect your safety, remember to aim at the red targets on their foreheads and keep your distance. There are also different game variants available, such as Skibidi Toilet Mayhem.
Controls
WASD - Move
LMB - Shoot
R - Reload
Space - Jump