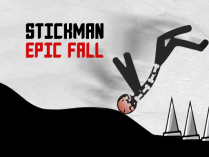 Destroy the Stickman
When you play the game "Destroy the Stickman," you can use a variety of vehicles and objects to try to run over, crash into, and otherwise eliminate other stick people. You just need to toss your stickman dummy down the hill, and its adversaries will be able to capture it. Spectacle the descent of your stickman dummy down the slope.
Earning the maximum number of points requires both eliminating stickman and blocking their way with perilous obstacles. Gaining points requires dealing more damage to your opponent than they are able to. Your gold can be put toward the purchase of new vehicles, which will significantly boost the amount of damage you deal. You have the ability to launch vehicles out of the vehicle and into other props as well as through walls.
Feature
Physics that are true to life for ragdolls.
Over 100 levels, 3 game modes.
More than 50 different characters to choose from, each with their own unique look.
Various stunts.
Controls
Make use of the buttons on the keyboard as well as the mouse. Simply clicking on the triangle will get you moving forward. When the time is right, you need to press the jump button.