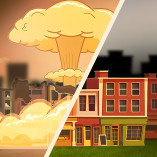 End of War
Welcome to End of War, a game that simulates the aftermath of war. Here, you will help the people and the city recover from the war. War is really scary, it destroys homes, nature, people, and many other animals. With bombs dropped on the city, many forests were burned and destroyed. Your task is to rescue people from the rubble and collect useful materials. Then cut some trees for wood and work hard to successfully achieve a new life for those who have been going through a really hard time.
Only when you and the people in the city unite and rebuild the city together will life gradually become better. Rebuild houses, factories, restore forests, and protect different animals. This is a highly educational entertainment game that helps players understand the horrors of war and how to survive. Let's play now!
Controls
Use WASD / arrow keys to move around.