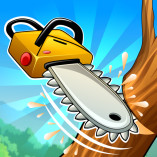 Feller 3D
Be a hard-working logger in Feller 3D. Are you prepared to grab the saw and undertake this unique mission? Your objective is to harvest each piece of wood from logging tasks so that you can construct your own home. You will frequently use axes and chainsaws. Learn how to utilise them!
Learn how to choose a good tree when it's time to cut it down. Following the removal of the fin shell, the timber is cut into planks, customised to the point of being usable. Once you have collected enough wood, construct a house in the design and colour of your choice. Create your own distinct home. In addition, you can compete in other games similar to Idle island.
Controls
Use the mouse to play.