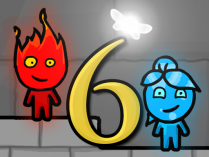 Fireboy & Watergirl 6: Fairy Tales
The platform game Fireboy & Watergirl 6: Fairy Tales is about Fireboy and Watergirl. The players will investigate a fascinating new temple where fairies will assist them in resolving the puzzles. These fairies are able to pull handles and open doors.
In the temple of the little fairies, Fireboy and Watergirl must cooperate with one another. To overcome every obstacle and make it out the door, the two main characters will need to work together. 31 levels must be completed. Along with the 25 standard levels, there are 26 special levels. The level of each temple challenge varies. Before moving on to the exit, the player must obtain the necessary number of diamonds. Each character must head to the exit to complete the level.
The doors and elevators are operated by fairies using levers and fairy lights. Smash them into the lever to make the switch turn left or right. Through you, fairies can be guided to energy sources. The antiquated technology of the temple is then turned on. You're all set to unwind and have fun!
Controls
Screens and fairies must be moved. Drag the left mouse button to move the screens and fairies. The W, A, D, and W keys are used to move Watergirl, while the arrow keys are used to move Fireboy.