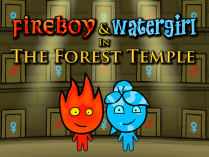 Fireboy and Watergirl 1 Forest Temple
Fireboy and Watergirl 1 Forest Temple is a game that is enjoyable for two players and is both clever and thought-provoking. As the first platformer in the Fireboy and Watergirl series, it is also the first game in the series overall. You will need to collect blue and red diamonds so that the characters can be safely transported to the exit.
You have the option of playing as one of the 32 Forest Temple levels, or as all of them, and tackling a wide variety of challenges. Each level necessitates the collaboration and concentration of two players, each of whom is directed by a different lovable character. You can get around challenges by utilizing ramps. Levers and buttons are both options when it comes to operating the controls.
Only the red gems can be collected by Fireboy. The fires from the lava do not hurt him in any way; however, the water may be enough to kill him instantly. The character Watergirl is the antithesis of that. The antithesis of this character is Watergirl. She is only able to have blue diamonds, and being in water pools does not harm her in any way. However, if you walk onto the lava, there is a risk that you will burn to death. Both of their lives could be cut short by the green poison puddles if they step in them.
It's possible that the game of Fireboy and Watergirl will be enjoyable for you.
Controls
Fireboy
Left and right arrow keys = move
Up arrow key = jump
Watergirl
AD = move
Up arrow key = jump