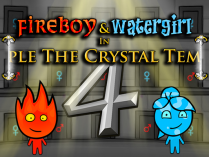 Fireboy and Watergirl 4 Crystal Temple
A platformer in the Fireboy & Watergirl series called Fireboy and Watergirl 4 Crystal Temple is now available. Join Watergirl and Fireboy as they explore a temple filled with crystal-powered magical portals. Heroes can move through the levels by using portals that can be opened. Discover the red, blue, and white gems, then attempt to guide each hero to the appropriate exit.
38 levels to explore. To complete the puzzle on the platform, the two heroes must work together to complete each step. You must depress buttons and pull levers in order to activate doors, elevators, or crystal gates. Certain buttons need to be pressed in order to secure the pedestal or fan in place.
Each level also has a distinct set of objectives. Not all achievements will turn the gems orange when you complete the level. The gems will turn green if you complete the level and all of the objectives.
Play more Fireboy and Watergirl video games!
Controls
Fireboy and Watergirl are in a maze, and you must guide them to the exits while collecting diamonds using the keyboard. Move Watergirl with the A, W, and D keys, and Fireboy with the arrow keys.