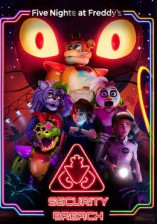 Five Nights at Freddy's: Security Breach
Join the horror world with Five Nights at Freddy's: Security Breach. You must save Gregory, a boy who has become trapped in a large shopping mall. This shopping center is also the largest location for Five Nights. You will occasionally find yourself beneath the mall as well as on multiple floors within the main mall.
Utilize the security cameras in your building to monitor the surrounding area for your safety. You can distract your foes with paint cans or toys, but you must escape danger before your foe finds you. You can either hide and wait for the threat to pass or evade your pursuers. Fans of survival and horror games like this one or the others in the series will undoubtedly enjoy it.
Controls
Use the mouse to see the full scene.