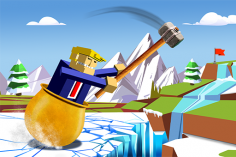 Getting Over Snow
You can challenge yourself in Getting Over Snow by climbing dangerous cliffs. Your mission is to use the hammer to conquer the difficult mountains. Help animals in captivity and set them free. To adjust the length of the hammer and climb, click on the character. Beware of lethal spikes, as giant magpies will attack you if you don't chase them away, and try to avoid dangerous avalanches. To unlock new characters and complete quests, amass gems. This game is a challenge for you!
Feature
Collect 15 classic characters through the use of gems.
Unlock five characters and complete their respective quests.
Lovely 3D graphics and charming characters.
You can strengthen your reflexes.
Controls
You can play by clicking and dragging the mouse.