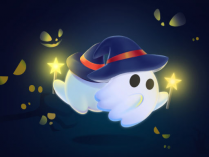 Ghost Fight IO
Ghost Fight IO is a foraging multiplayer game of ghosts. An entertaining multiplayer game this Halloween season! As a baby ghost in love and you will have the task of collecting as many lights as possible. Your enemies will be larger ghosts, they will quickly steal all the points you collect and kill you. You can also attack ghosts with less points!
Becoming strong will be an advantage to help you avoid enemies. Try to be the highest scorer and share it with your friends. Let's play and discover many interesting things right now!
Controls
Use the mouse or the WADS key.