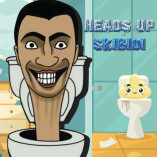 Heads Up Skibidi
Through the game Heads Up Skibidi, you can show how much you love football. Be Skibidi and begin your professional football training. Score points by hitting the ball into the cute little bubbles that form using Skibidi's head. You'll need to be able to quickly change the trajectory of your shots if you want to stay on the field. Keeps running into the ball with his head. Don't let the ball hit the floor, or the clock will run out and you'll lose. Put your creativity to use and see if you can beat the high score.
The combination of music and comedy may make for a great time. Here, players from all over the world can strive for supremacy. More benefits become available as your score rises. There are new tricks, outfits, and gadgets for your character to unlock. You can find other games that are comparable to Helix Skibidi Toilet Jump.
Controls
Use the mouse to move Skibidi.