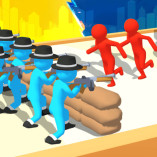 Human Evolution Rush
Human Evolution Rush is a human evolution simulation game. Constantly increasing the size of the organisation and getting more powerful. You must do your best to assist your characters in evolving by avoiding obstacles, scoring points, and crossing the finish line. Scale, defeat your opponents, and triumph.
How far will your stickman army travel, and how many members will it amass? Let us march on and vanquish even the most formidable opponents. Your opponents are quite tall, and they will not hesitate to move into your domain. However, don't be concerned; simply go ahead and recruit members. Nothing can stop you when your army is large enough. Enjoy the exciting gameplay with vibrant graphics and moments of relaxation!