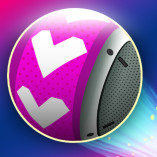 Hyper Neon Ball
Hyper Neon Ball is a challenging and entertaining game of ball hurling. The objective of the game is to get the ball over the obstacles and into the correct receptacle. To do that, you need the necessary skills and a good reasoning ability. Shoot the orb over the podium while avoiding obstacles to earn points. Is it that simple?
Each level is passable after three attempts, and there are 12 distinct levels. Find the quickest route to reach the objective using neon-coloured balls. If you do not overcome the challenge after three attempts, you will lose. However, you should not be concerned because Hyper Neon Ball is intended for your amusement. Appreciate the straightforward yet challenging gameplay and design. After each ball shot, put your luck and accuracy to the test. Let's play!
Controls
Use the mouse and left click to create the path of the ball.