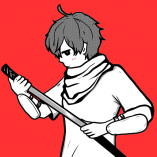 Mangavania
Challenge the action-platform game Mangavania. You will assume the character of Yuhiko, a young ninja who travelled to hell to find a cure for his brother. You will confront a variety of hurdles and challenges along the way. You have the possibility of making many new acquaintances, but it is also rather perilous when confronted with frightening beasts.
To move to the next level, you must find and release souls. Even the final bosses can be defeated. To accomplish this, you must master a variety of talents such as swords, bows, double leaps, wall climbing, straight jumps, and so on. Every fight poses an unknown risk. Are you willing to fight? Have fun with Mangavania and other action games like Temple Run 2.
Feature
Classic pixel graphics and 8-bit music are featured.
The player explores a dungeon with metroidvania levels.
There are numerous difficult levels.
Bosses are formidable opponents.
Controls
Walking: AD or Arrows
Jump: Space
Jerk: Shift
Sword Attack: Left mouse button
Archery: Right mouse button