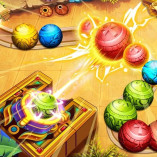 Marble Dash
Marble Dash is a colourful marble adventure game. Your mission is to eliminate the moving marbles as rapidly as possible. To accomplish this, simply match three balls of the same colour together. To do so, you must aim precisely at the goal and have a well-defined playing strategy.
With around 500 different degrees of difficulty. Shoot the colourful candy balls and crush them by matching the colours and scoring as many points as you can. The more you play, the more achievements and bonuses you can earn. Endless mode, boss levels, a development system, a piggy bank, and many other game features await your discovery. Marble Dash is a basic game that tests your skill to shoot precise balls. Pop all of the marbles to move on to the next level.
If you enjoy match-3 games, you may also play Bubble Shooter Challenge. Relax and enjoy entertaining moments!
Feature
More than 500 exciting and challenging levels.

Every time you complete the levels, you will get daily rewards and star chests.

Colorful graphic design.

Play daily to get reward chests.

Multiple levels and game modes.
How to play
Match 3 or more marbles of the same colour to create an explosion.
Swap the shot marbles by touching the ball dispenser.
Use powerful boosters to pass difficult levels.
Do combos to create chain reactions and earn higher scores.