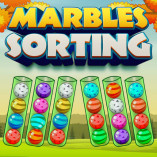 Marbles Sorting
Marbles Sorting is a puzzle game in which you must arrange various marbles until they are all in the same tube. It's time to work together to train your brain and finish the task as quickly as possible. First, players will notice translucent glass tubes carrying a variety of coloured balls. Rearrange the balls in the most logical order possible, using logic.
It's time to race against the clock because you must accomplish the objective before the countdown runs out. To perform the jobs flawlessly, each tube will be a different type of ball, onto a comb. In Marbles Sorting, you need speed and reasoning. If you enjoy this game, you can also play more games similar to Ball Sort Puzzle.
Controls
Select the bubble at the top by clicking on a tube, then click on the target tube to move it there. Each tube contains a specific sort of ball.