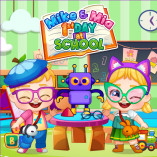 Mike And Mia 1st Day At School
The first day of school is often difficult, isn't it? So let's experience Mike And Mia 1st Day At School. Here you will support Mike and Mia on the first day of school with many surprises and difficulties. The game has 5 different stages, which must be completed sequentially. The first step is to learn to be neat. Put all the furniture in its proper place and make the room clean.
Because they played for so long, Mike and Mia are both very dirty, and they need to take a bath and change into new clothes. Then prepare a snack like bread with sauce and pretty decorations. When everything is ready, put on the children's colourful clothes and go to school together. The first lesson involved simple numbers. Let's learn and memorise together! Simple but meaningful lessons are imparted in Mike And Mia 1st Day At School. So let's play and relax!
Controls
Use mouse to play the game.