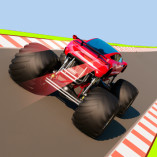 Monster Truck Sky Racing
Take the wheel and race to the top of Monster Truck Sky Racing. Will you cross the finish line on time if you race on a competitive road? Unlock a slew of ten monstrous vehicles, each with its own set of abilities and characteristics. There are 12 unique tracks to explore, so you'll never lack for competition. Fly through the air, navigating loops and twists as you pull off spectacular stunts.
Choose from a number of different personalization options to show off your sense of style and imagination. Compete and exhibit your individual skills. In Monster Truck Sky Racing, your goal should be to complete every track and earn the highest possible score. This game has no barriers to communication or physical interaction. You can select from more than 16 different languages. There are over 16 different languages to choose from. Are you ready to race right now? Furthermore, you can play more Kart Racing Pro.
Controls
Use arrows to move
Shift to enable NOS boost