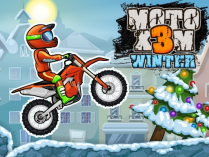 Moto X3M 4 Winter
The captivating Moto X3M Series includes the bike racing video game Moto X3M 4 Winter. The goal of the game is to help players find their way through a dangerous maze while pulling off the craziest stunts they can think of.
This game will take you on a journey along an icy road. It is the instant you enter the snow-covered, pine-tree-dotted, wintery world, which is also full of style. You can play this game, which is not difficult. But the main objective of the game is to pull off numerous tricks in order to succeed.
You will push your stunt bike over a variety of ramps, detours, and obstacles. Make sure to time your flips to avoid colliding if you want to get the most stars. If you run into any issues, you can easily restart the course by using the arrow to the left.
Controls
To play, use the arrows.