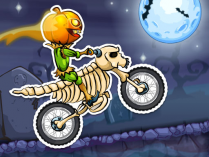 Moto X3M Spooky Land
Participate in the Moto X3M Spooky Land race on the motorcycle of the same name. Tracks decorated for Halloween await you to ride your motorcycle through, each one packed with challenges. You will be able to navigate around obstacles and arrive at the finish line in one piece.
The participant who earns three stars is the one who crosses the finish line first. You can earn three stars if you make full use of all of the skills that come naturally to you. You can put the stars that you've worked so hard to earn toward the purchase of new racers and bikes, such as a witch that rides a car or a pumpkin that rides an engine made of bones.
Featured
The graphics and music for Halloween are both the most captivating and spooky.
The traps and the tracks are both constructed in a very elegant manner.
Each new level introduces a different and more difficult challenge.
Controls
To speed up, press W or the up arrow.
Use up/down arrows or A/D to tilt.