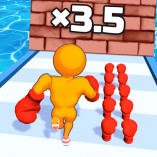 Muscle Man Rush
In Muscle Man Rush, you can experience the intense sport of boxing. This is a fun action game that keeps all of the players on edge. Your aim is to defeat obstacles and foes along the road with your fists. Take advantage of various power-ups and boosters to help you level up your character and become more formidable.
You will face the final boss in the final battle. To become the strongest, keep calm and battle hard. Allow your character to run and move left and right in order to acquire power-ups. Maintain vigilance and react promptly to deadly traps. You can even fight low-level foes in order to take their attack points and gain an advantage over the next enemy. You can now throw a powerful punch in the air, and knocking down walls increases your score to the highest achievable level. Play right now! Also, don't miss out on fun games like Duel Of Builders.
Controls
Use the mouse to move left and right.