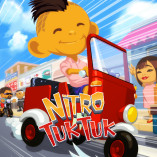 Nitro Tuk Tuk
Nitro Tuk Tuk is a game of urban transportation and obstacle avoidance. On the road, you will operate the tuk tuk at a moderate speed, making it quite simple to master. Your objective is to collect and drop off passengers, avoid obstacles and traps, and reach the finish line safely. Drive at a moderate rate of speed and observe all traffic signs. Always observe traffic safety regulations to ensure your safety.
The signs also indicate which visitors need to be picked up. Numerous locations will have golden stars sprawled on the road; gather them all. You must also collect gasoline cans in order to refuel and keep your engine operating. Observe the diagram and the route to ensure the most stable movement possible. After completing the mission, you will progress to the next level. How many levels can you conquer out of 15? Tell us about your accomplishments!
Controls
Use the buttons on the keyboard and mouse to play.