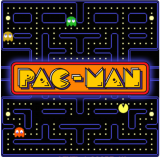 PacMan
The arcade classic PacMan is an example of a game genre that has stood the test of time. The players will be in charge of controlling PacMan. They will complete the maze by consuming all of the dots in order to move on to the next level.
Pay attention to the four ghosts named Blinky, Pinky, Inky, and Clyde. They will hunt you down and devour you once they catch you. You have three lives per level, so you need to avoid the ghosts and collect the dots.
At each of the four corners, there is a blinking dot. You can amass enough of them to render four ghosts immobile. In addition, PacMan has the ability to squash them for bonus points. The objective of this action game is to navigate a labyrinth while avoiding four ghosts that are chasing you while collecting points-boosting items such as fruits, crushed dots, and other goodies. Relax!
Controls
To navigate, use the arrow keys.